We hold a number of community events throughout the year.
Check back in regularly to find details on upcoming events and to buy tickets.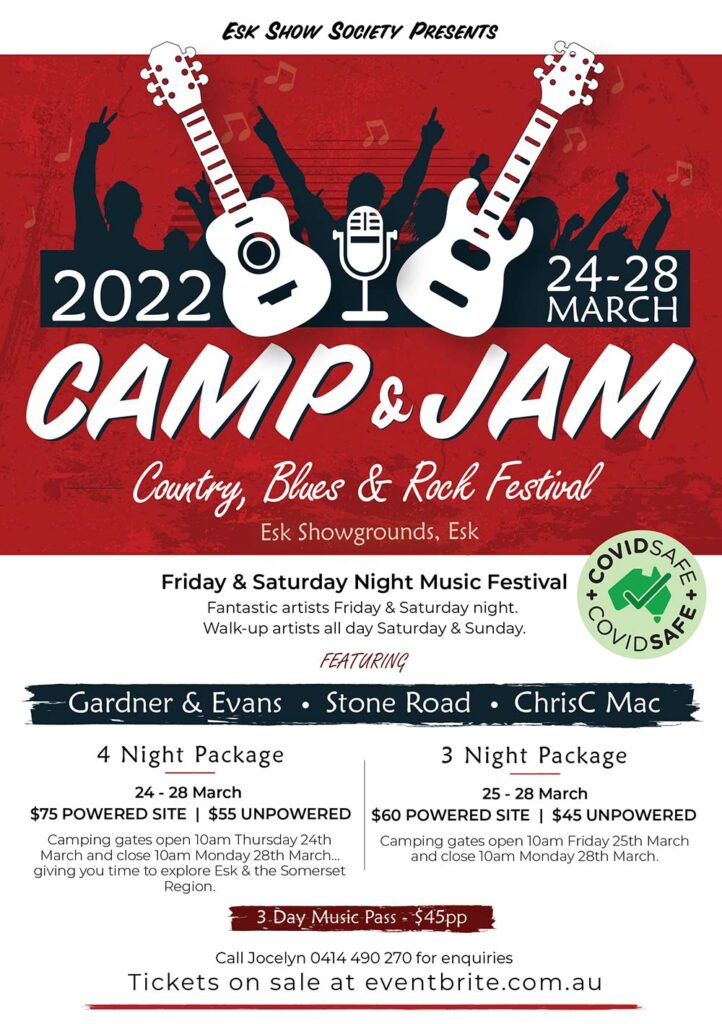 Proudly sponsored by the Esk Show Society
As you can see we have planned for the 2022 Camp & Jam and rest assured if necessary we will meet all Covid Industry requirements.
Book your Powered or Unpowered Camping Site for 4 or 3 nights on Eventbrite.
Not camping but would like to attend the 3 day music festival? Then just book your admission tickets on Eventbrite.
Please call Jocelyn on 0414 490 270 for any enquiries.
On Friday evening 25th March from 6.30pm we are delighted to introduce to everyone ChrisC Mac Band (ChrisC and Lindsay). ChrisC Mac Band are a covers duo band focusing on popular classic rock from the 70's onwards. Expect to hear classic songs from Fleetwood Mac to Paul Kelly, and Amy Winehouse to AC/DC. Easy listening, popular soft Rock, to energetic rocky dance classics. Two musicians, with a passion for classic music and a quality full band sound.
Thank you for your ongoing support of the Esk Show Society